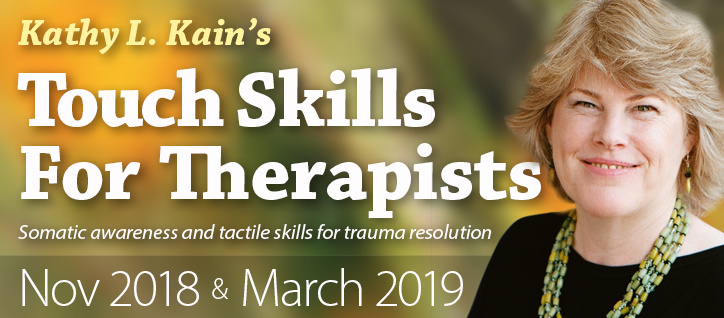 Touch Skills Module 1:
Resilience & Self-Regulation
When working with clients who have traumatic stress symptoms, sometimes the first priority is to help them feel settled and relatively stable. This can be thought of as building the necessary capacity for self-regulation that will later be used to fully resolve the traumatic stress.
The benefit of working to build capacity first is that this process by itself can contribute to the diminishing of the traumatic stress symptoms. In the process of creating body resources, the client is also learning the somatic skills and confidence to overcome the traumatic patterns that were initially so overwhelming – creating resilience. With some clients, the resilience and capacity-building process is all that is needed to resolve their traumatic stress symptoms.
The focus of this training is to provide students with touch-based methods for supporting the somatic capacities of their clients. We will include some basic techniques for both learning how to touch different types of tissues and working with the viscera that are needed for understanding the other techniques presented in the class. The module will cover:
Resilience, resourcing, building capacity for self-regulation.
How to apply social engagement and Polyvagal theories to support healthy self-regulation.
Refining skills for touching different body layers (skin, muscle, bone) and body structures.
Titration and pendulation in physical forms.
Supporting functional visceral patterns, particularly in the kidneys/adrenals and digestive tract (enteric nervous system).
Relaxation of the base of the skull, brain stem, and the associated cranial membranes.
Restoring fluid equilibrium and movement.
Education of the client regarding symptoms and what to expect in the change process.
Legal, ethical and scope of practice issues.
Trauma Categories Addressed:
Scars/surgery
Physical injury
Stabilising highly activated/dysregulated physiologies
Pre-Requisites:
Open to therapists and body workers with a professional practice or a work environment where the skills learnt may be applied.
For those who have not had prior training in a bio-physiology model of traumatic stress or have not worked experientially within that framework, this module is a pre-requisite for all of the other modules within the Touch Skills for Therapists program.
If you have any queries about whether you are required to attend this class prior to other modules, please contact info@seaustralia.com.au
IMPORTANT
This is the foundation class of the Touch Skills program. It is strongly recommended to attend this module in preparation for any of the other modules within the series. The class contains material that supports the content of the following modules and does differ to that presented within the Somatic Experiencing Professional Training.