Somatic Experiencing Practitioner (SEP) Certificate Requirements
Only those participants who complete the full training and all requirements to receive an SEP certificate may be called a Somatic Experiencing® Practitioner or SEP and claim to practice Somatic Experiencing®, which is a legally protected trade name.
Participants who do not meet the requirements listed below retain their status of 'students in training'. All Somatic Experiencing Practitioner's (SEPs) worldwide, who have earned the SEP certificate, have completed ALL of the following in-class hours PLUS all additional personal and supervision hours.
Classroom Attendance
There are three training levels – one level for each year of the training. Each training level consists of two 6-day modules, providing 12 days of classroom attendance per level and 36 days for the whole training.
Each module of six days awards 6 attendance credit hours per day for a total of 36 hours per module, totaling 216 attendance credit hours for the entire training.
Additional Requirements for an SEP Certificate
A participant is required to receive 12 personal session credits and 18 case consultation (supervision) credits from SEI approved providers if they wish to become a certified SEP.
The required sessions and case consults are accumulated by the participant during the three year training period.
It is required that 4 personal sessions are received during each training level i.e. 2 per module.
The recommended distribution of case consult credits for maximum educational benefit is:
4 during the Beginning Level

6

during the Intermediate Level

8

during the Advanced Level
It is acceptable for the total number of case consultations to be met up to one year after completion of the Advanced II module. However, the participant will not receive an SE certificate or be considered an SEP until the full requirements have been met.
Once you have started the next level of training, all sessions/consults received will be counted at the new training level and must be given by a Provider approved to give sessions or consults at your current level of training i.e. if you are attending the Intermediate level, any sessions received by providers who are approved only for the Beginning level will not be counted towards your session requirement totals.
Before booking sessions, please verify on the SEI website that the Provider is approved at your current training level.
All sessions/consults are to be recorded on a participant session log provided at the start of the training; each entry must be signed off by an approved Provider.
The cost of personal sessions and small group or individual case consultations is the responsibility of the participant and is based on private agreement between the participant and the approved provider.
Details of personal session and case consultation costs can be found under Tuition Fees.
Personal Sessions: 12 hours of personal sessions
To be provided by an approved SEP session provider in person or via Zoom/Skype, giving access to SEPs worldwide.
Personal Sessions will be offered both during a training module and between modules by those assistants who are approved to do so. During a module, provider assistants will be offering individual SE sessions in the mornings before the class starts, during lunch breaks, and in the evenings. Session sign-up sheets will be available at the training. Many participants find individual sessions helpful at this time in order to process material that may come up during the training.
Case Consultations: 18 credits of case consultations
Case consultations must be received from an approved consultation provider either in person or online.
Case consultations will be offered during a training module and between modules by those assistants who are approved to do so.
Case Consult credits may include a mix of individual, small group and Faculty large group case consults.
A minimum of 6 of the required 18 credits must be with a Somatic Experiencing® International™ faculty member (trainer) in either the large group or individual case consultation format.
A minimum of 4 of the required 18 credits of Case Consultation must be received in the Individual Case Consultation format. This will ensure that all case requirements will be met with a participant personally presenting at least 4 cases.
Individual Case Consultations:
For individual case consultations, 1 consult hour equals 1 credit.
Group Case Consultations:
For group case consultations of 4 or more people, 3 consult hours equal 1 credit for each participant.
Approved Providers
A list of current approved providers is available on the SE International website. The list is updated on a quarterly basis.
Participants are encouraged to obtain the required number of personal sessions and case consultations from a variety of approved session providers. In receiving sessions from approved providers who have been taught by different faculty members, you have the potential to enhance your learning experience as each faculty member brings unique gifts to their teaching. It is possible to receive these hours via Zoom/Skype as well as in person during training times.
At each training, there will be SEP assistants who are qualified to give you personal and case consultation sessions which can be signed off on your session log sheet. Usually, the SEP assistants are available for personal and case consultation sessions via sign-up sheets put out on day one of each module. Sessions are before class begins, during lunchtime (which is usually one and a half hours duration, to ensure time for a session and lunch for those opting for lunch-time sessions), and after class each day.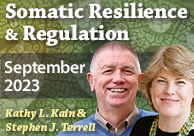 Be aware of any emotional reaction swelling up inside you, and be aware of how your body is experiencing these emotions in the form of sensations and thoughts, If your emotions feel too intense, i.e., rage, terror, profound helplessness, etc., you need to enlist competent professional help.
Dr. Peter Levine