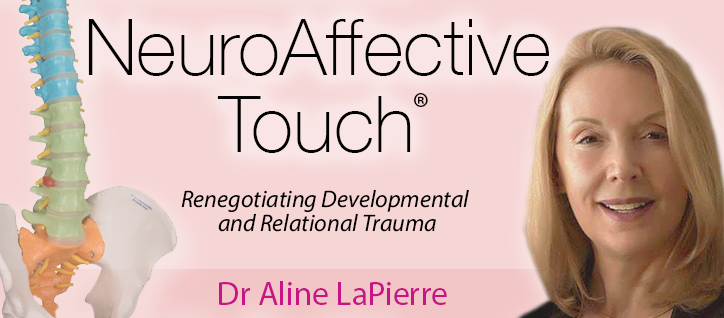 NATouch™ Curriculum – Healing the Relational Matrix
Renegotiating Developmental and Relational Trauma
NeuroAffective Touch® is a psychobiological model that integrates the therapeutic use of touch and bodywork with psychodynamic psychotherapy and somatic psychology. The NeuroAffective Touch® training builds a vital bridge between our verbal and nonverbal selves in order to address early emotional and relational trauma and repair attachment and developmental deficits.
For students who complete the NeuroAffective Touch® Foundation Training and wish to deepen their expertise, ongoing study groups and online consultations are available.


When psychological identity is built on the shaky foundation of an early traumatised physiology, an integrated psychobiological approach is necessary."
Dr. Aline LaPierre, Creator of NeuroAffective Touch®

1. Healing Our Deepest Core: Nurturing Prenatal and Infant States
Biological Life Force ○ The Implicit Self ○ Attunement
Healing early trauma begins with offering the missing nonverbal experiences of somatic support, attunement, and safety — a secure bottom-up foundation based in trust and care from which a new top-down narrative can emerge. The practitioner's attuned presence addresses the three essential self-states necessary for secure attachment and emotional well-being:
I exist
I am loved
My needs are important
Working somatically with early development, we start at the beginning, at conception. Our approach addresses the nonverbal implicit self. We begin with an experiential introduction that helps practitioners embody the principles of the biological life force, orient developmental processes to the midline regulatory axis, and become familiar with the polyvagal energy centres that shape our patterns of connection and protection.
We develop key languaging, somatic, touch, and bodywork skills necessary for working with attachment deficits and 'get under' psychological stressors and trauma:
A nurturing touch focus that supports a client's core neurological and emotional capacities to trust and yield
Palpation skills to sense changes in tissue tone and density
Language skills to bring nonverbal states into explicit spoken expression
We expand the embodied presence of the students by encouraging their personal psychobiological exploration. The capacity for connection and attunement within the therapist–client dyad depends on the therapist's ability to become a co-regulating resource. Our polyvagal-informed model helps therapists develop their own internal self-regulation and body-mind communication in order to entrain clients toward safety and connection.
We use somatic contemplation and self-exploration to:
Enhance anatomical and biological awareness by increasing conscious connection with pulsation awareness, breath, and energy flow
Develop somatic resonance by exploring intersubjective space, transference and countertransference — how therapist and client experience each other and share that experience
Lastly, all clinical work using touch and bodywork must address legal, ethical, and scope of practice issues. This includes taking a touch history, exploring clients' fears about a body-centred approach, and evaluating their readiness to be touched and go beyond talk therapy.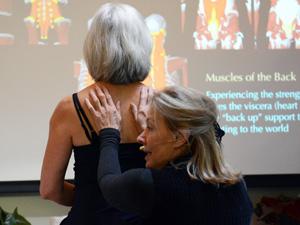 You will practice how to:
Anchor healing in the biological life force
Centre in the midline regulatory axis to stabilize sensory disorientation
Create dialogues that engage a collaborative mind-body relationship
Use the NeuroAffective Touch® protocols to address preverbal trauma: Establishing resonance, creating a nurture surround, amniotic touch, awakening compression
Meet a client's tender attachment needs without creating dependency

2. Connecting with the Emotional Body to Support Self-Regulation
Primacy of the Heart ○ Diaphragmatic Gates ○ Heart-Mind Collaboration
This segment expands the traditional psychodynamic understanding of identity as residing in the mind. The anguished mind of a client who has experienced emotional and relational trauma is often trapped in painful cycles of self-judgment, anxiety, blame, and shame. A body-centred focus offers an important portal for clients who live primarily in their mind. It helps them find the connection to their heart, emotions and self-compassion.
We apply the latest research in interpersonal and affective neuroscience along with a Polyvagal perspective to connect with the heart centre and release the diaphragmatic gates that regulate emotion and hold in emotional shock. This brings awareness to unconscious, procedural patterns of relating. In particular we:
Address how relational shocks to the heart impact early attachment and the adult capacity for relationship
Release the respiratory and thoracic diaphragms to bring states of protection and fear-based contraction to awareness
Support the body to shift out of dysregulation and move toward organisation as the emotions regulate and the nervous system settles
We learn to recognise and welcome the subtle yet powerful presence of the biological life force. Beyond the false safety of an encapsulated mind, this segment addresses the primacy of the heart to help clients regulate their emotions.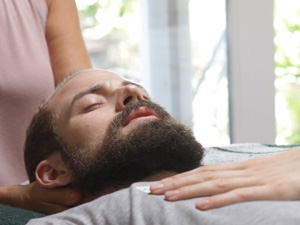 You will practice how to:
Explore the primacy of the heart as the central polyvagal emotional and energy centre
Stabilise dysregulated emotions and expand the capacity to listen to neuroception and social engagement
Interrupt the brain's predictive mechanisms to maintain a time-line awareness of past, present, and future
Use body-mind collaborative language to develop a loving mind-heart relationship that reduces self-judgment and shaming
3. Emergence and the Growth of the Self
Enteric Nervous System ○ Naval Radiation ○ Imaginal Links
This segment explores the digestive and enteric nervous systems. Stressors and aggressions reverberate like shockwaves in the soft tissues of the viscera. Sustained abuse or neglect imprint in the body's innermost depths — in the enteric nervous system or gut brain.
Each client has his or her weak link – an organ that is more vulnerable than others and becomes the focus of stress. We inquire: "What memory lives in your liver, kidney, or stomach?" We pay particular attention to:
Connecting with the power of naval radiation to overcome developmental distress
Gently making contact with the protective forces of each organ, offering support for relational expression
The mind must learn to attune to the body's internal needs as would a committed and caring partner. NATouch™ invites collaboration between the organic realm of the body's lived experience and the mind's analytic attunement. Imagery often emerges in consciousness when working somatically and these imaginal links act as a communication bridge between biological intelligence and mindful self-reflection. Imaginal links signal the appearance of new neural pathways that guide the emergent growth process.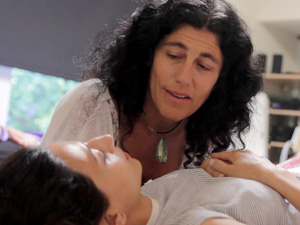 You will practice how to:
Use drawing to map and deconstruct the somatic patterns of numbing, bracing, and collapse that result from abuse, neglect, and abandonment
Help clients recognise when and how their mind overrides their gut's wisdom
Recognise and amplify the subtle yet powerful indicators of the emerging self as it is revealed in imagery, sound, gesture, and posture

4. Renegotiating Hypervigilance
Looking and Seeing ○ Hearing and Listening ○ Verbal Expression
This segment focuses on social engagement and explores how clients process sensory information. Chronic distress overstimulates the sensory orienting systems of the eyes and ears. It can foreclose spoken expression and leave clients trapped in a distorted world of negative projections and introjects.
We address hypo- and hypervigilance to help reset the social engagement system. Contraction in the eyes, ears, cranial base and throat signal a withdrawal from experience and self-expression. To the degree that clients disengage from their senses, they lose touch with reality and their capacity for social engagement. We bring attention to:
Help the ears stop listening for danger and the eyes stop looking for threat
Open the diaphragmatic gates at the jaw, cranial base, tentorium, and dome
We bring awareness to the throat to reclaim the voice. Opening the throat and releasing the vocal cords is a key healing component for those who do not speak their truth for fear of harmful repercussions.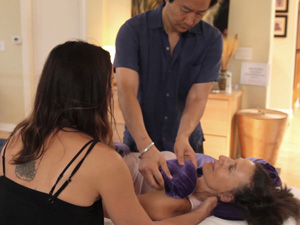 You will practice how to:
Explore the neuropsychological convergence of the ears, eyes, jaw, cranial base, and throat to reset the vigilance system
Develop a perception profile, identify listening styles, and map the visual field

5. Restoring Connection with the Developmental Blueprint
The Relational Matrix ○ Individuation ○ Post-Traumatic Growth
In this last segment, we work from a wholistic, big picture perspective and integrate the principles and skills learned in the first four segments. We have systematically explored key areas and systems of the body and the emotional and relational trauma memories they hold. We have seen how body and mind weave together somatic, emotional, and cognitive experiences to create a matrix that binds a person's identity to the adaptive survival responses that are the outcome of their family history.
We use the NeuroAffective Touch® approach to reconnect with the developmental blueprint, repair ruptures in the developmental progression, and bring wholeness to the relational matrix.
Informed by the interplay between body awareness, cognitive skills, emotional resiliency, and confident expression, we now:
Fine-tune treatment intentions and work with the body-mind building blocks that underlie the formation of identity
Support the emerging self and the reconnection to the developmental blueprint by being present to autonomic shifts and the expansive flow of post-traumatic growth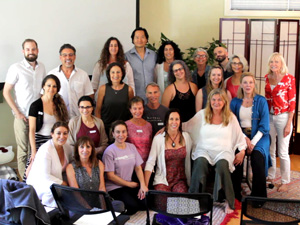 You will practice how to:
Use the understanding of the body-mind functional unity to deconstruct survival adaptations and reconnect clients to the creativity of their somatic individuation
Stimulate neuroplasticity and open new neural pathways
Support the capacity and skills for loving connection often deeply buried by relational trauma
PACKAGE DEAL for 3 Online Modules: 3 x 3-days
Comprises three online modules. Modules must be taken in sequence.
Does not include the Touch Intensive Attendance Module.
Super Early Bird
enrol by 31 January, 2022
$3,036 AUD
Early Bird
enrol by 7 February, 2022
$3,276 AUD
Standard
enrol by 9 February, 2022
$3,516 AUD
Flexible payment plans are available - $77 admin fee applies.
ONLINE
MODULES
All 3 Online Modules
Module 1: 19-21 February 2022
Module 2: 28-30 May 2022
Module 3: 10-12 September 2022

ONLINE BONUS
Faculty Group Case Consults - 3 x 2½ hours * Value $360 AUD *
Training Videos - Access for 1 year * Value $425 AUD *
SINGLE ONLINE MODULE: 1 x 3-days
Enrol by individual module. Modules must be taken in sequence.
Super Early Bird
enrol 6 weeks prior to module date
$1,115 AUD
Early Bird
enrol 4 weeks prior
$1,195 AUD
Standard
$1,275 AUD
Flexible payment plans are available - $77 admin fee applies.
ONLINE
MODULES
Module 1: 19-21 February 2022

Module 3: 24-26 September 2022

HYBRID BONUS
Faculty Group Case Consults - 3 x 2½ hours * Value $360 AUD *
Training Videos - Access for 1 year * Value $425 AUD *
TOUCH INTENSIVE MASTERCLASS: 1 x 5-day module
Enrolment will be opened and costs confirmed once COVID international travel restrictions are lifted.
Super Early Bird
enrol by 30 April 2022
Estimated
$2,310
Early Bird
enrol by 30 June 2022
Estimated
$2,420
Standard
enrol by 30 August 2022
Estimated
$2,530
Flexible payment plans are available - $77 admin fee applies.
Location
TBA
Dates will be scheduled when international travel restrictions are lifted.
• Study Groups - 2 x 3½ hours
* Value $425 AUD ex GST *
• 1 extra day of attendance
* Value $350 AUD ex GST *
• Nurture to Heal Therapeutic Pillows - set of 3
* Value $152 AUD ex GST *