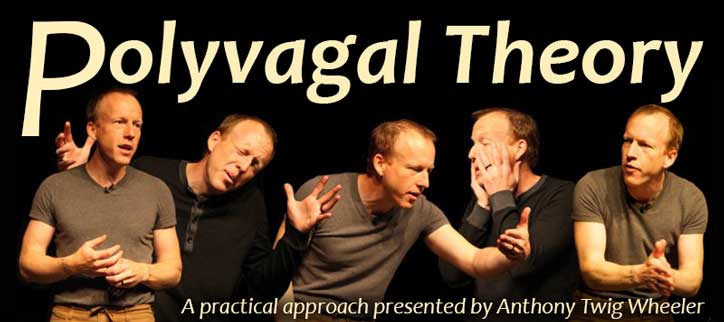 Anthony Twig Wheeler, Somatic Experiencing Practitioner, Educator, Applied Human Ecologist and Cultural Animator, presents a two day workshop on the science and clinical relevance of autonomic nervous system (ANS) organisation and how therapists can apply it today.
An Animated Look at the Polyvagal Theory and it's Clinical Relevance

The Map that is Changing Therapy Forever.
The Polyvagal Theory, developed by Dr. Stephen Porges, director of the Brain-Body Center at the University of Illinois at Chicago, is changing therapy everywhere. This new mapping of the autonomic nervous system and the influence of its sub-systems on everything from attention to digestion is critically useful for therapists in guiding their clients towards increased well-being.
The Polyvagal Theory may have a reputation for being complex to understand when using the jargon from the specialised field of psycho-physiology. This workshop presents a translation of the fundamentals, clinical implications and many of the nuances within the Polyvagal Theory. You will be able to put this enhanced practical understanding to immediate use in your workplace.

Who is the workshop for?
Solid scientific information is critical to helping care professionals. So is the ability to engage our clients in fresh and spontaneous ways.
This workshop will benefit professionals from a variety of backgrounds who are working with clients experiencing stress and trauma. Participants may include psychotherapists, counsellors, social workers, body-workers, teachers, medical personnel, clergy and others in the helping and healing professions. It is also highly appropriate for those engaged in the Somatic Experiencing® training.
Workshop Style:
Twig expands beyond classic powerpoint presentations by using graphic facilitation, unusual demonstrations, adapted comedy improv theatre games and somatic explorations to translate the complex science behind the Polyvagal theory into everyday language that participants can easily assimilate.
Presenting a combination of lectures, games, fun role-playing and demonstrations.
Lecture format to concisely relate the theoretical information.
Novel learning games to help us relax more around complex ideas and communications.
Dynamic presentations of the information through graphics and theatrics will make it memorable.
Play with various kinds of clinical situations to become more fluid and fluent in our reading of our clients and their somatic expressions.
Whatever your current understanding is of the Polyvagal Theory, the workshop provides an easily accessible way to explore this cutting edge scientific material.

Workshop Content:
In an engaging and participatory way, yet with thorough coverage, we will address the value, implications and psycho-biological dynamics found in this ground breaking work. This useful review of the Polyvagal Theory and its insights for therapists includes:
Why the organisation of the ANS has an ultimate influence on "behavioral repertoire."
How to read which sub-system a client's ANS is currently expressing and know which therapeutic stance would be most helpful.
When our nervous system perceives threat it directs and constrains our behaviour. Conversely, when we perceive sufficient safety we are more free to choose and change what we do. We will uncover how this assessment is made at the biological level.

Day 1:

"Oh! That's why people do that"
Using the Polyvagal map, discover the dynamism of the autonomic nervous system, including its evolution, anatomy, physiological responsibilities and behavioral expressions.
Be curious on how the ANS seeks homeostasis along the continuum between stress and well-being.

The Autonomic Nervous System (ANS) Made easy
Somatically explore your own ANS and its influences within.
Learn to recognise the autonomic state in clients and how to attune to it appropriately, moment to moment.

Day 2:

Applying the Polyvagal Theory within Trauma models
An enquiry into the current limits within therapy in relation to the individual's change process.
Why monitoring the influences of a client's autonomic nervous system can overcome those limitations.
How and why trauma modalities like Somatic Experiencing® integrate the innovative Polyvagal map.

Deconstructing the Polyvagal concepts for clinical relevance
Experience a practical application by deconstructing a replicable intervention for anxiety and immediate distress.
Be guided by several simple biological principles found in the Polyvagal theory to create a useful recipe for helping ourselves and others out of overwhelming experiences.
Review the benefits and effectiveness of this revolutionary science within a clinical context.

Gain a deeper grasp of the Polyvagal Theory and autonomic states to confidently attune to your clients and offer appropriate interventions.
For MEMBERS of the SE COMMUNITY: There is a special discount of $40 if you enrol in both this workshop AND Twig's
Building Fluency in the SE Language workshop.
Please use the special discount enrolment button provided on the SE Language workshop webpage.
A Revived Appreciation of How Interesting 'Life' is.
An awareness of the Polyvagal Theory aids clinicians in understanding why their clients feel and act the way they do, informed at a biological level. This is the kind of information that reminds us to wonder at the complexity and intelligence of biological life. That in turn will help us appreciate our client's in those more challenging moments of our work!
"Twig is a master of the nervous system and a master of play! His workshops should definitely be a program requirement." – Erica Gaeta, SEP
"I have been working with Twig to study Polyvagal theory and it is some of the best learning I have ever experienced. As a psychotherapist, my strong suit has not been in the sciences or neurobiology. But Twig's ability to make complex concepts clear and easy and fun! has changed everything for me.
Twig's understanding and depth of knowledge brings so much clarity to my learning. Before studying with him I had been very intimidated, but now, I am genuinely excited as I see my own growth and development. He brings ease and fun to the atmosphere of learning, as well as brilliance in his adeptness at applying and understanding the Polyvagal Theory in a learnable way"
Ruby Jo Walker, LCSW, SEP, CHT
"Twig impresses me and inspires me. Its amazing to see such life in someone. He reminds us of what is possible when we embrace ourselves and our creativity. He is a gifted teacher and gifted person. Amazing!" – Alyson Groll, SEP
Workshop Information
An information pack will be provided upon payment for the workshop.
Morning and afternoon tea will be provided.
Professional Development Hours
A Certificate of Attendance is provided for 12 hours of professional development. Continuing Professional Development (CPD) requirements vary across Professional Associations. Please contact your Association for specific requirements.
SE WORKSHOP PRESENTER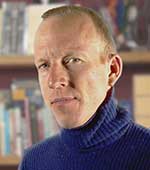 Twig Wheeler
SEP

Applied Human Ecologist and Cultural Animator
Website

Anthony "Twig" Wheeler, SEP, Applied Human Ecologist and Cultural Animator, is an internationally recognised Somatic Experiencing® practitioner, consultant and educator known for his creative ability to help therapists understand the psycho-biological underpinnings of trauma and well-being.

As a senior SE® training assistant Twig has helped graduate hundreds of SE practitioners and has facilitated the introduction of SE to helping care professionals on four continents.

Over the last ten years Twig has created several internationally successful workshops relevant to bodyworkers, therapists, doctors, nurses and teachers who are exploring the psycho-biological literature and somatic therapies, particularly as exemplified by Peter Levine's Somatic Experiencing®.

One of Twig's specialities is his animated presentations on Stephen Porges's Polyvagal Theory and the subsequent scientific and therapeutic re-evaluation of the organisation and importance of the autonomic nervous system. Though recognised as being uniquely important by therapists world-wide, this theory is often thought of as difficult to understand by those unfamiliar with psycho-biology and evolutionary theory. Twig's background as an Applied Human Ecologist gives him the generalist lens necessary to help non-scientifically oriented helping professionals grasp the value of this transformative theory.

Additionally Twig has taken an active role in translating the science of traumatology to the general public: from war-affected communities in Central Africa to parent groups, domestic violence shelters and theatre going audiences in the US, Canada and Brazil. It is Twig's ability to make complex ideas accessible to both lay and professional audiences that give his presentations a unique flavour of usefulness and ease.

Twig recognises that truly systemic change, for individuals and society alike, will require a dramatic reduction in accumulated stress. Knowing how the psycho-biology of trauma behaves in the nervous system and how helping professionals can best put that knowledge to use is something that Twig is keen to share with you.