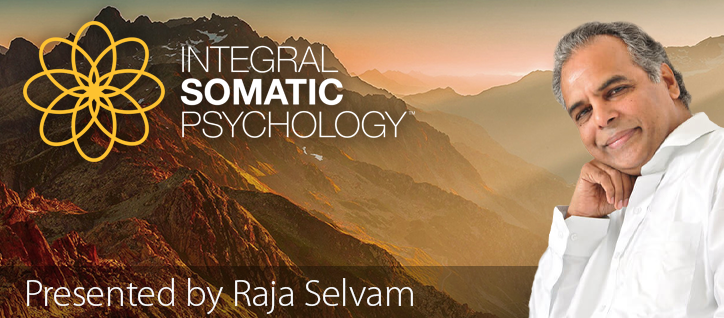 Integral Somatic Psychology™ (ISP™) Professional Training
A complementary modality that, through the greater embodiment of emotions, aims to support the improvement of cognitive, emotional, behavioural, physical, energetic, relational and spiritual outcomes, regardless of a practitioner's primary therapeutic modality.
ISP Module 1 by Video
Attend module two of the ISP Training after completing module one by video. A discounted tuition fee applies.
The training by video includes the review of all course hours and demos by video, the training module manual and hand outs plus access to the ISP Student Portal where many reference materials are held.
Modern neuroscience has accumulated much evidence that shows cognition, emotion and behaviour are not only a function of the brain but also involve the body. When the body shuts down through its physical and energy defences against overwhelming emotions, all three are compromised. Research shows that emotions, when more fully embodied, can improve not only emotional but also cognitive and behavioral outcomes in therapy.
Working with all types of emotions
Integral Somatic Psychology (ISP) supports the improvement of cognitive, emotional, behavioural as well as physical, energetic, relational and spiritual outcomes by expanding, embodying and developing a greater capacity for a comprehensive range of emotional experiences. ISP works not only with primary emotions such as happiness and sadness and their combinations (secondary emotions) but also with the often overlooked but always present sensorimotor emotions such as attraction and aversion. ISP shows how to: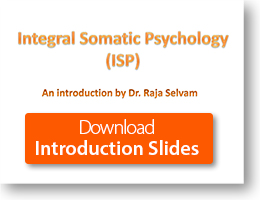 Facilitate the experience of a greater range of emotional experiences so that one can always find an emotion to work with in any session within any therapeutic modality.
Identify and work with psychological, physical and energetic defences against emotional experiences.
Expand the experience of emotion in the body in such a way that the emotion, the body and the energy remain regulated whilst a greater capacity for affect tolerance is developed.
The balance between emotional and physiological regulation
In order to work more effectively with emotions, along with theories of affect development and strategies for supporting all levels of an emotional experience, ISP uses detailed knowledge of how emotions are generated as well as defended against in each layer of the physical body (muscle, organ, and nervous system). ISP covers how to work with such somatic defences to access, embody and develop a greater capacity for emotions with simple tools such as awareness, intent, breath, movement and self-touch; tools that are easy to incorporate into diverse therapeutic settings.
Integral Somatic Psychology uses the science of the physiology of emotions, attachment, resonance, relationship, cognition, behavior, stress and trauma, plus a simple model of physiology regulation, for both deepening emotions in the body and for regulating the body at the same time.
ISP draws from Western and Eastern psychology, scientific research on the neurology and physiology of psychological experiences, empirical research from body psychotherapy schools plus bodywork, movement, energy psychology and quantum physics.
Integral Somatic Psychology was developed by Raja Selvam, PhD.
ISP offers a means to increase clinical effectiveness through helping clients to embody more levels of their psyche and aspects of experience (cognitive, emotional and behavioural) by fully integrating body, energy and consciousness into any psychological process.
For more information about the many aspects of Integral Somatic Psychology, including the science behind ISP, the evidence supporting its effectiveness in therapy and other resources, please go to What is ISP?
Integral Somatic Psychology Professional Training Format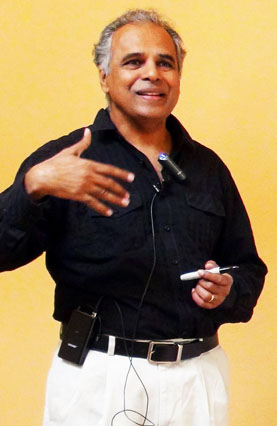 The full ISP Professional Training comprises twelve days taught over two six-day modules within a one-year period.
With a mix of theory and practice, the training format consists of lectures, guided group exercises, live demonstrations with participants, daily practice with fellow participants, questions & answers and directed readings.
A comprehensive manual is provided, plus a reading list and links to associated topics.
After attending a module, participants will have the opportunity to review the live training by secure online video.
The value of the complementary ISP approach will be demonstrated especially through topics of current clinical interest: attachment, affect regulation, stress, and trauma.
Those interested have the option of taking the first six-day module only or attending both ISP modules. Completion of both ISP modules is required to receive a Certificate of Completion in Integral Somatic Psychology™ (ISP™).
Integral Somatic Psychology Certificate Program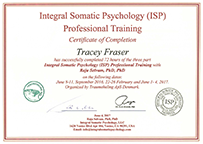 An optional ISP certificate program is available in order to recognise the accomplishments of trained practitioners.
The ISP certificate program offers a listing on the Australian online ISP practitioner directory.
Dates, Location & Cost
ISP Professional Training

A Special Discount applies when enrolling in the full ISP program.

Super Early Bird – enrol by 18 January, 2019
Early Bird – enrol by 30 January, 2020
Standard – enrol by 6 February, 2020
$3,740
$3,850
$3,960
Module 1: Online Viewing only
Module 2: Feb 13 – 18, 2020
Module 1: The Embodiment of Emotion, Cognition & Behaviour Part 1
Only the Online Viewing option is available.
Super Early Bird – enrol by 18 January, 2019
Early Bird – enrol by 30 January, 2020
Standard – enrol by 6 February, 2020
$1,540
$1,650
$1,760
Module 2: The Embodiment of Emotion, Cognition & Behaviour Part 2Pre-requisite: Module 1 (by attendance or online viewing)February 13 – 18, 2020Holy Cross Centre, Templestowe, VIC
Super Early Bird – enrol by 18 January, 2019
Early Bird – enrol by 30 January, 2020
Standard – enrol by 6 February, 2020
$2,200
$2,310
$2,420
PAYMENT PLANS: A variety of payment plan options are available for anyone who registers for either an individual module or the full program. The Super or Early Bird Payment Plans are ideal if you would like to receive the offered discount of the Early Bird but prefer to pay the tuition fee in regular monthly or fortnightly instalments. You may start a payment plan as early as you wish and nominate how many instalments you would like to have. A $77 administration fee applies to any payment plan option. Conditions apply.
Who May Benefit?
ISP will prove to be of considerable value to you whether you are trained in a mainstream psychoanalytic or psychotherapy approach, a body-oriented psychotherapy approach (such as Somatic Experiencing, Bioenergetics or Sensori-Motor Psychotherapy), or a bodywork modality such as Polarity Therapy or Cranio-Sacral Therapy, or an energywork school.
It offers therapists a knowledge base to further increase the embodiment of body, energy, and consciousness dimensions in their work without having to change prior clinical orientations or adopt interventions outside the norms of their professional practice.
For the SE Community
ISP offers possibilities to improve your practice in general through a greater understanding of, and working with, the many ways in which the body can generate psychological experiences or defend against them – over and above what the orienting, fight, flight, freeze, dissociation model, the coupling dynamics model, and the SIBAM model can inform us.
Who May Apply

ISP brings together a broad and expanded understanding of trauma, emotions and transformation. Through this training, I have become both professionally and personally more resilient, resonant. With deeper capacity, I am better able to move toward wholeness and coherence. I am able to take clients to greater depth and capacity in a way that is both moving and liberating.
The Integral Somatic Psychology™ (ISP™) Professional Training is for experienced clinicians and therapists, who are engaged in psychological work with individuals or groups in either an active therapeutic practice, work or teaching environment.
The training is open to professionals from a wide variety of backgrounds including those who are a psychiatrist, psychologist, psychotherapist, social worker, marriage and family therapist, counsellor, art, movement or breath therapist, coach, bodyworker, energy worker, psychology trainer or educator, clergy, meditation or spiritual teacher, or other similar professions.
All applications are determined on an individual basis. Upon registering, please use the application form to describe your professional background. If you are unsure whether your present work involves adequate psychological processing or body awareness to benefit most from ISP, please contact the Organiser to discuss your application.
What if I have missed the first module?
You may attend module 2 of the Integral Somatic Psychology Professional Training after viewing module one by video.
The online viewing option offers a CPD certificate of 20 CPD hours. To earn CPD for a training module completed by video, you are required to complete an online self review; it is based on the content in videos and provided reading materials and comprises a series of questions with true/false answers.
Once the ISP 1 videos have been viewed, the ISP 2 module may be joined if a one hour ISP consultation is taken with an assigned mentor to help orient the participant to the ISP approach. The consultation is at the participant's cost, however this is reflected in the advertised reduced tuition fee for the ISP 1 online viewing.
Is Integral Somatic Psychology the right course for me?
ISP is the right course for you if you engage others in some form of psychological work in any modality and are already working with the physical body to some extent, in either you own personal practice or within your therapeutic individual or group practice or teaching.
IMPORTANT: Scope of Practice
Integral Somatic Psychology is a scientific approach to embodiment. It is not a stand alone approach or system for doing psychotherapy, bodywork, or energy work. Where applicable, you are responsible for ensuring that you have the necessary certification or license to do psychotherapy, bodywork, or energy work in conjunction with Integral Somatic Psychology in your professional practice or teaching.*
* The Integral Somatic Psychology Institute is neither a regulatory nor licensing organisation and therefore is not sanctioned to certify, licence, or otherwise bestow the legal authorisation to practice as a mental health professional.
Continuing Professional Development
For each 6-day module an Attendance Confirmation is provided for 36 hours of professional development. Continuing Professional Development (CPD) requirements vary across Professional Associations. Please contact your Association for specific requirements.
To earn 20 CPD hours for a training module completed by video, you are required to submit an online self-review that is related to the video content and reading materials. It comprises a series of questions with True/False answers.
Those completing both ISP modules will receive a Certificate of Completion for the Integral Somatic Psychology Professional Training.
Support & FAQ
If you have a question that requires immediate assistance, first check our FAQs. All Frequently Asked Questions are listed with a detailed answer.

If your question has not been answered please email info@seaustralia.com.au and we'll respond within seven business days.